Anne Charleston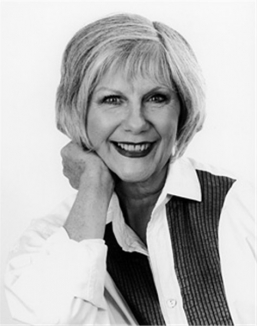 Born in Australia, Anne is now a citizen of the UK with a home in southern Ireland. She is known to millions for her long-running role as Madge Bishop in Neighbours.
Her theatrical experience is extensive, having begun her career at St Martin's Theatre. Melbourne, playing roles in The Anniversary, The Cavern, The Irregular Verb to Love, The Wrong Side the Park and many other plays. There followed Australian national tours of How the Other Half Love, The Secretary Bird, The Dresser, The Man Most Likely To and Noises Off.
Anne has appeared in many Australian television plays, some of them live to air, an experience which these days would probably drive her to a nervous breakdown! Roles in ongoing television series include Wendy in Bellbird, Dee in Timelapse, Cathy in The Company of Men, Elizabeth MacArthur in Possession and Madge Ramsey in Neighbours.
Numerous panto appearances include leading roles in Aladdin, Cinderella, Dick Whittington, Jack and The Beanstalk, Sleeping Beauty and Snow White.
Anne has toured the UK numerous times with successful productions of The Cemetery Club starring Shirley Ann Field, Edward Woodwood and Michele Dotrice, Love Julie, a two-handed play in which she appeared with Millicent Martin, The Surprise Party, Present Laughter and Five Blue Haired Ladies Sitting On A Green Park Bench and has been seen on tour in The Vagina Monologues, The Case of the Frightened Lady, Calendar Girls, UK tour of 5 Grey Haired Ladies, The Vagina Monologues and an Irish tour of Steel Magnolias, alongside Mischa Barton and most recently two productions of The Matchmaker.
Anne went back to Australia to film the TV drama Dossa and Joe, written by Caroline Aherne, which was shown on BBC2. She was also seen as Betty Waddell in Crossroads, Edna's sister, Lily in Emmerdale, as a guest lead in Holby City, Mrs Anstee in Doctors 'Stargazing' and most recently as a guest on Channel 4's 80s Night.